1940's and 1950's - Vintage Paperdolls Page 2

This is The Vintage Paperdolls2 Page, 1940's and 1950's
Marge and Gower Champion paperdoll

Published by Whitman 1959
#1966
Outstanding dance team of the 1950's. Spectacular in "Show Boat" 1951 with Howard Keel and Kathryn Grayson. Another star studded musical in 1952 "Lovely To Look At" with Howard Keel, Kathryn Grayson, Ann Miller and Red Skelton.
Marge and Gower were a husband and wife team that added musical magic to the popular 1950's musicals.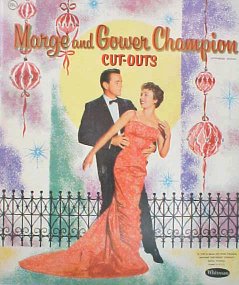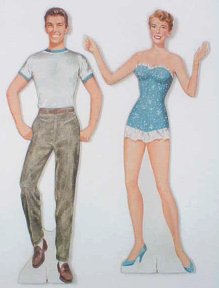 Jane Russell paperdoll
Published by Saalfield 1955
#2651
Voluptuous leading lady well known for her Howard Hughes debut film "The Outlaw" (1943). In 1948 she portrayed Calamity Jane in "The Paleface" with Bob Hope. Who could forget her in the 1953 "Gentlemen Prefer Blondes" with Marilyn Monroe. That is when women were truly sexy........and had their clothes intact.
In 1954 she starred in "The French Line" which had controversial wardrobe design. Ha! Just gorgeous fashions with the suggestion of skin revealed. I do seem to remember a confrontation with the 1950's censors.
In 1955 she co starred in "The Tall Men" with Clark Gable and Robert Ryan.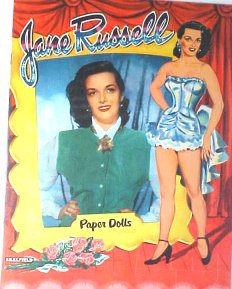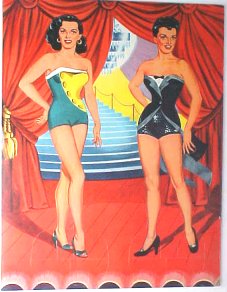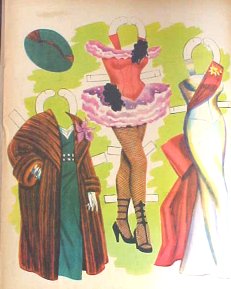 Cyd Charisse paper doll
Published by Whitman 1956
#2084
Beautiful, leggy Cyd Charisse. Steamy, sultry dancer/actress who co starred in many magnificent musicals of the 1950's. One of her earlier movies was "Ziegfield Follies" (1946).
The more memorable extravaganzas were in the 1950's. In the 1952 hit "Singin' In The Rain" with Gene Kelly, Debbie Reynolds and Donald O'Connor she appears in a dance specialty.
In 1953 she co starred with Fred Astaire in "Band Wagon". In 1954 she is with Gene Kelly and Van Johnson in the blockbuster "Brigadoon". Cyd Charisse is " Ninotchka" in the 1957 remake titled "Silk Stockings".
Married to crooner Tony Martin many years.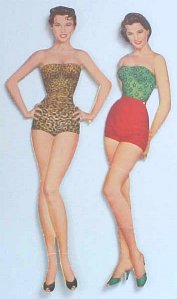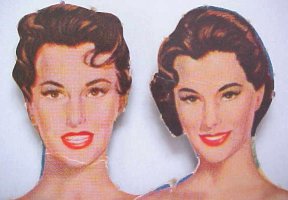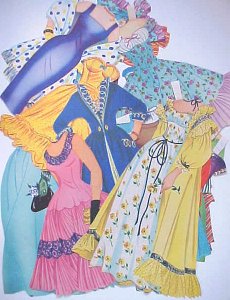 June Allyson paper doll
Published by Whitman # 970
Circa 1950
Cute, petite with a deep husky voice, June Allyson 's most popular roles were throughout the 1940's and 1950's.
"Two Girls and a Sailor" (1944) with Gloria DeHaven and Van Johnson, "The Secret Heart" (1946) with Claudette Colbert and Walter Pidgeon, and in 1949 she portrays Jo March in the classic "Little Women".
During the 1950's she was teamed with James Stewart in "The Glenn Miller Story" (1953) and "Strategic Air Command" (1955). They had screen chemistry as they made several movies together.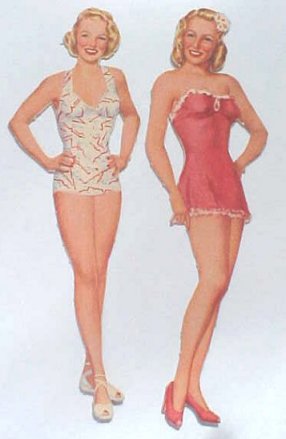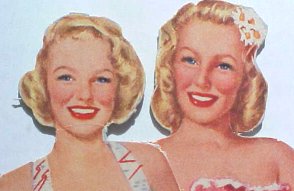 eBay has a rather large set of listings of vintage Paper dolls for sale, if you are interested in a purchase, or to find values, if looking for values, it is necessary to register with eBay.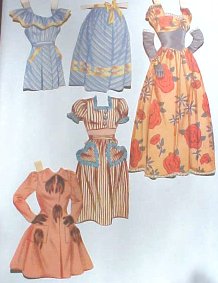 (Click to return to the top of page)

Click here to return to the vintage paperdolls page
Click here to return to the Antique Doll Advisors Home Page
eBay is a great wedsite for "value" information about dolls, or most anything else for that matter--however, in order to see what something has sold for, registration is required, so if you are looking for past sales of any particular doll, please register