A Treasure Trove of Doll Pictures

Photos of days gone by, left in boxes on the curb, a treasure trove of doll pictures
Found discarded in a neighbors trash amongst many boxes of photos and cabinet cards belonging to a generation that the present did not know or care to preserve......were the following tin types.
The fact that the boxes of photos were placed on the curb for pick up instead of being placed in a trash receptacle was perhaps a subconscious invitation to preserve the family history.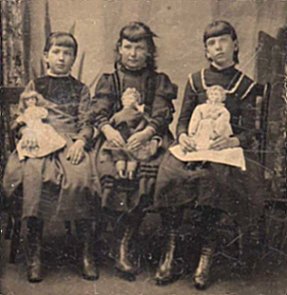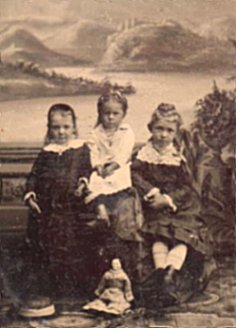 Sometimes the doll in the photo is not readily identified, but the little character gleefully displaying her prized possession captures our hearts.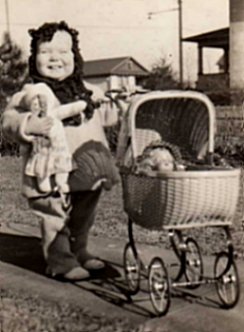 One visit to a Post Card sale/show will introduce you to another easily acquired addiction. Vintage post cards with dolls featured are usually sorted into a separate category allowing you to search easily for appealing selections.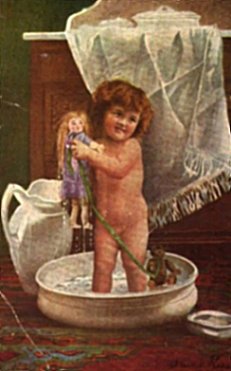 There are endless images of dolls in the vintage post card category pertaining to Santa Claus. Santa is sometimes a bit frightening as portrayed in the late 1800's or early 1900's, but the dolls are as delightful as always.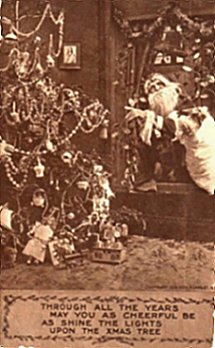 Recently, collectors of the hard to find antique images of children holding dolls have combined their collections on CD's and offer them to all at a very reasonable charge. Under "Sources" on this site you will find these lovely people.
See, you are already thinking about perusing those many memories you have stashed away........it is time to organize them anyway. Take along tissues and a cup of tea..........they will bring a smile to your face and tears of happiness to your eyes!
Click here to return to the top of found family pictures with dolls page
Click here to return to Family members with dolls page
Click here to return to The Antique Doll Advisors Home Page
eBay is a great wedsite for "value" information about dolls, or most anything else for that matter--however, in order to see what something has sold for, registration is required, so if you are looking for past sales of any particular doll, please register