Now Collectible Childhood Dolls

Some modern childhood dolls that are now collectible
Modern dolls.....now very collectible.......are more frequently represented in our family photos. Following are photos of my daughter with her treasured Raggedy Andy, her gorgeous Italian Furga and other dolls from Santa .
Andy went through the washer a few times......but he, his companion Raggedy Ann and the Furga still reside with their now adult "mother".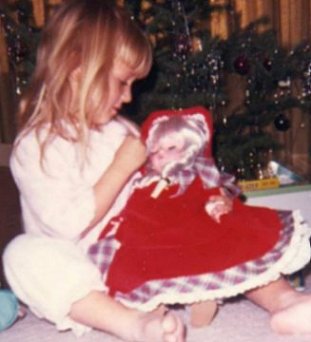 The doll on the left is an Effanbee "Gumdrop". "Santa" fell in love with her while gathering toys for an early 1960's Christmas. Although pictured here with her new owner on Christmas morning......
"Gumdrop" periodically disappeared and was off limits for every day play.......until she was re-gifted to my daughter 30 plus years later. Because of my tendency to hoard her, she is in near mint condition.
Approximately 20 years later, my granddaughters first doll was a new generation Raggedy Ann.
Raggedy Ann and Andy have been loved by those who came before us and will be adored by those who follow.
Christmas snapshots provide a look into our own childhood to reveal the gift of a favorite doll. Go dig in your closets and basements! You might be surprised and what you have forgotten.
Click here to return to family members with dolls
Click here to return to the top of family photo's witjh collectible dolls page
Click here to return to The Antique Doll Advisors Home Page
eBay is a great wedsite for "value" information about dolls, or most anything else for that matter--however, in order to see what something has sold for, registration is required, so if you are looking for past sales of any particular doll, please register