Various Sizes of Various Sizes

The Toni Dolls Were Made In Various Sizes...
...making the Toni Dolls a fun doll to display!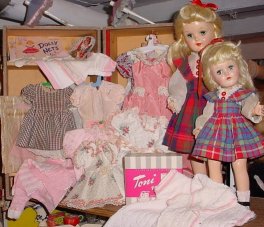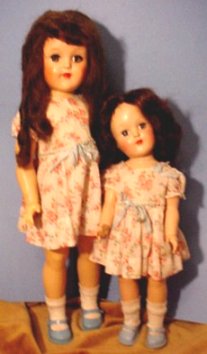 Toni Dolls Big and little sister--Little and big sister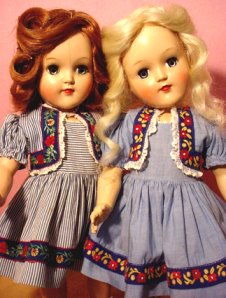 Toni Dolls Friends...Another friend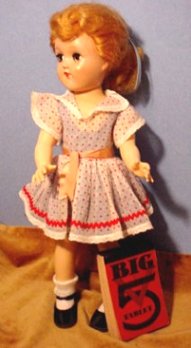 Toni Dolls Twins and...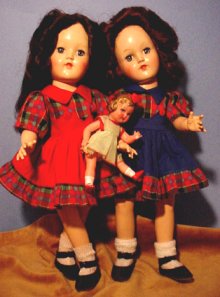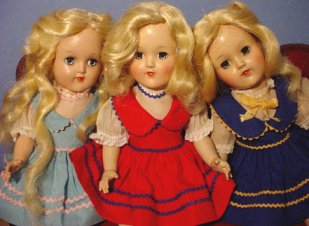 ...Triplets Party Dress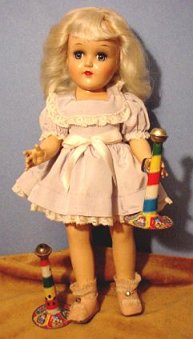 Toni was produced by Ideal Toy Corporation and is marked IDEAL DOLL/MADE IN U.S.A/P-90 (14") or P-91 (16") , P-92 (19"), P-93 (21") or P-94 (approx. 22").
Usually, most of her hard plastic parts are marked with the size...for example the legs and arms at the ball for adjoining are marked with P-90 or such which attains to the size of doll.
I say USUALLY, as at one time I observed a collector pull apart a literally mint in box doll which had been handed down through the family, looking for the the markings on each limb. They were not there. THIS DOES NOT MEAN THE DOLL WAS NOT ORIGINAL.
eBay has a rather large set of listings of vintage Ideal Toni dolls for sale, if you are interested in a purchase, or to find values, if looking for values, it is necessary to register with eBay.
Remember, dolls were produced in mass quantity for businesses to make a profit. As the line produced dwindled in popularity or production of parts was hindered in some way, other unmarked similar limbs were used to complete the doll.
The idea that all parts has to be correctly numbered to please a collector of the future is a thought that did not occur to all parties working to make a business profitable and children happy.
Click here to return to the Top of the Toni Dolls Page
Click here to return to the Ideal Toni Dolls Page 
Click here to return to the Antique Doll Advisors Home Page
eBay is a great wedsite for "value" information about dolls, or most anything else for that matter--however, in order to see what something has sold for, registration is required, so if you are looking for past sales of any particular doll, please register