A Source For The Russian Doll Collector

A Source For The Russian Doll Collector Provided By The National Geographic
The Russian Doll Collector will find this map produced by the National Geographic Society, a very informative assessory, it is very colorful and has illustrations of attire and captions pertaining to many of the districts of the Russian (Soviet Union) population. You will be able to identify costumes that are worn by Russian dolls as well as to acquaint yourself with information from that region.
The pictures which accompany the text are pictures from my own Russian Doll collection and are presented at random. Following is quoted some of the information which has been updated from the earlier map. Even it is outdated as you will see by reference to Soviet Union, but the regional information is helpful in determining its relation to the Russian dolls we long to identify.
UKRAINIAN
"Second only to the Russian as the Soviet Union's largest ethnic group, the hard-working Ukrainians proudly maintain their colorful folk culture and their distinctive literacy tradition. Ukrainians suffered heavy losses in World War II. Today they harvest grain and vegetables from collective farms and man factories that process millions of tons of iron and steel."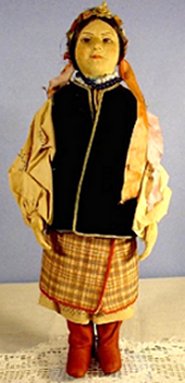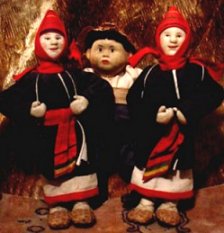 Mordwa Women and Ukraine Boy
UZBEK Uzbekistan is apparently a Central Asian republic. ".......the third largest ethnic group in the Soviet Union.
The fabled cities of Samarkand and Tashkent ......". Fortunately, this is one group of Russian dolls that is relatively easy to locate.
More information about this map will be provided for the Russian Doll Collectors as time goes on.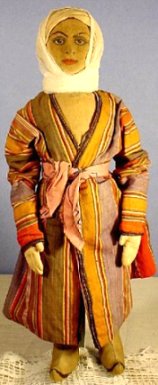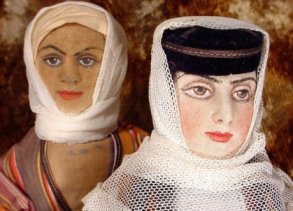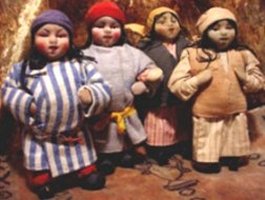 Uzbechen
MOLDAVIAN eBay has a rather large set of listings of vintage Russian dolls for sale, if you are interested in a purchase, or to find values, if looking for values, it is necessary to register with eBay "The Moldavians cling to a slice of black earth wedged between the Ukraine and Romania......they have close cultural ties to Romania. Moldavians now bolster a farm economy with fast developing light industry."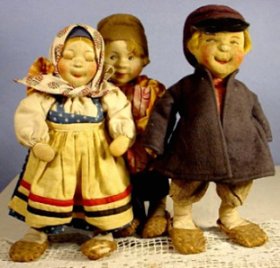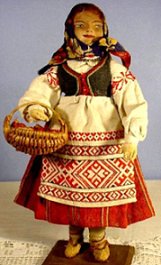 RUSSIAN "Under the czars they ranged from the Baltic Sea to the Pacific.......... Their character was indelibly engraved by artists such as Tolstoy, Pushkin and Tchaikovsky. "
Smolensk Woman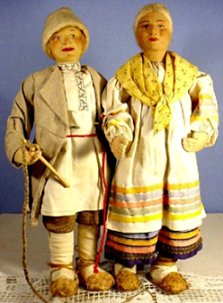 Village Boy and Village Woman 
If you have made it this far, you too have an interest in the vast country and its people located on the other side of the world from the USA.
More information regarding the Russian peasants of the past two centuries can be found at your local library. Copy machines are available at most, enabling you take home the images of a Russian people in their regional attire.
If there is anyone out there located in the Russian country or Provinces that knows anything about the origin of your countries magnificent cloth dolls from the 1930's forward...........please email with any and all information. Isn't international communication wonderful?!!!!!! 
Click here to return to Top of the Russian Doll Collector Page
Click here to return to The Vintage Russian Dolls Page
Click here to return to Antique Doll Advisors Home Page
eBay is a great wedsite for "value" information about dolls, or most anything else for that matter--however, in order to see what something has sold for, registration is required, so if you are looking for past sales of any particular doll, please register