(We are in the process of updating our site)

Your Headline
Vintage International Costumed Composition Dolls(Google Search)(Bad eBay Link to Montanadolllay)
Okay Folks, I may have listings up on eBay, I list dolls, doll clothes and doll furniture, and some other stuff, click on my eBay ID above!!
"Egyptian Dancing Girl"
Is the tag attached to the girl on the left.. Her garments are a stiff metallic bra encrusted with two huge gems and beads and a sheer skirt. Her hair is unique as it resembles strands of thread. Solid pearls comprise the head dress of her friend. The dress is sheer net with metallic waist.
The girl with the innovative bead with tassle lantern has an identification tag "Ceremonial Dancer-China". Her outfit is taffeta with antique metallic trim. Head gear is comprised of beads and pearls on a wire frame.
The girl on the right does not have an ID tag but seems to be of the same region. Her "pajamas" are satin and her head gear is of tiny beads intricately wired to hold blue pom poms.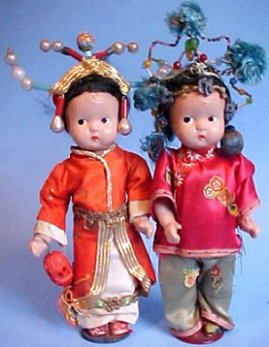 eBay has a rather large set of listings of vintage Composition dolls for sale, if you are interested in a purchase, or to find values, click here--(Bad eBay Link) (if looking for values, it is necessary to register with eBay).
The girl on the left does not have an identification noted, but, she seems to pair nicely with the other doll. Heavy metallic trim over ornate satin brocade.
Magnificent head gear matched only by the attire of the doll on the right. This doll is tagged as "Royal Dancer of Cambodia". The spire on cap is carved of wood.
Tagged "Bali Dancer", the doll on the left has unusual head attire. The metal leaves are individual and move independently of one another. Did the creator shop for discarded jewelry or raid her own jewel box? Her skirt is long and sheer.
The second young lady wears pink taffeta and has a queue of hair that hits her feet in the back. She bears a tag "Girl of Chinese Royalty". Possibly from the same region, the third girl wears an ornate metallic lace trimmed cap and taffeta jacket over floral skirt.
The fourth doll appears to be from the Orient as well. Beaded band over very coarse human hair. The last girl wears a "coolie hat" woven of straw. Her braids are of human hair.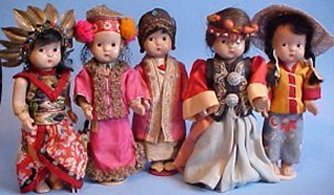 The girl on the left is tagged as "Bride of Malay". Her dress has a long train which is not visible in photo. Her necklace of teeny shells, her sandals are of woven straw.
The middle three girls all wear sarongs but no identity tags attached. The doll on the right wears a real straw skirt with crepe paper flowers around skirt waist. Her ankle and wrist bracelets are of crepe paper. Her hair is human. If you guessed Hawaii as her home.........you are correct!
We go south of our border for this next group. On the left, dressed in simple cotton with embroidery of the region, is "Mexico".
The second doll in full floral print has a tag stating she represents "Panama (Pollera). The third doll is representing "New Zealand". The material for her wild print rayon dress with matching hair band must have been difficult to locate.
Region of the fourth doll is unknown. She wears a striking necklace or collar of intricately woven straw. The wide stripe at the hem is velvet.
The last girl bears a tag stating she represents "Panama (Country Woman)". Her straw hat is multi color and her bright red dress has a tassel at neck.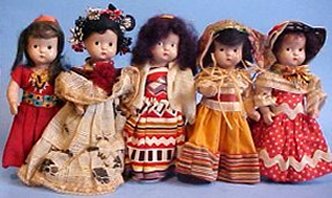 (eBay Banner - 1)(Google Adsense)
Click here to return to the Top of the International costumed dolls Page
Click here to return to the Composition Dolls Page
Click here to return to the Antique Doll Advisors Home Page
eBay is a great wedsite for "value" information about dolls, or most anything else for that matter--however, in order to see what something has sold for, registration is required, so if you are looking for past sales of any particular doll, please register
(eBay Banner - 2)