Hard Plastic Dolls By Madame Alexander

More Hard Plastic Dolls By Madame Alexander...
...And Sources of Information! Hard Plastic Dolls..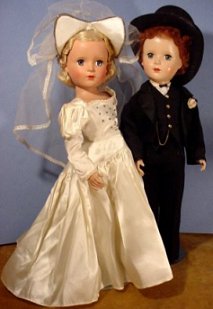 In particular Brides have been my passion since childhood. Madame Alexander produced some of the most spectacular brides in hard plastic.
This particular circa 1949 Margaret mold bride is referred to as "Lucy Bride".
The Margaret mold groom hard plastic doll has extra Madame Alexander clothing which adapts him to his fantasy of "Prince Charming".
I am not even going to mention where I purchase his extra clothing because you should be getting the "hang" of it by now! That's right...eBay!
eBay has a rather large set of listings of vintage Madame Alexander dolls for sale, if you are interested in a purchase, or to find values, if looking for values, it is necessary to register with eBay.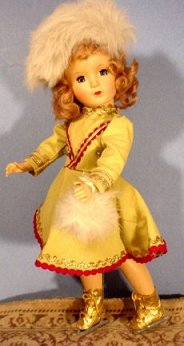 "Babs" the ice skater was produced in several elegant outfits. The use of fur, rhinestones and flashing gold skates picqued the imagination of young girls who dreamed of becoming figure skaters.
This outfit is actually chartreuse which I believe would date her early 1950's.
The skin tones of most Madame Alexander dolls vary from the peaches and cream to "suntan". The rare black "Cynthia" is breathtaking.
Although red hair is most attributed to the rare Piper Laurie doll, there are various versions of red head Madame Alexander dolls to be found.
Flaming red hair and suntan complexion are an indescribable combination.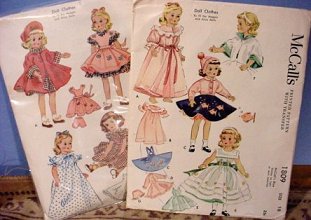 There are vintage patterns out there, created to complete the Alexander wardrobe. If you have a buried desire to design clothing, the Madame Alexander hard plastic doll is a model of perfection.
Just a few of the other Madame Alexander hard plastic dolls produced are:
The Little Women .......Amy, Meg, Beth, Jo, Marme, Little Men, Queen Elizabeth II, Annabelle, Alice in Wonderland, Beau Art Dolls, Ballerina (Nina), Peter Pan/Wendy, Alice, Royal Wedding, Godey, Princess Margaret Rose, Peggy Bride, Mary Rose Bride, Fairy Queen, Mary Martin (South Pacific), Wendy Bride, Prince Phillip,
Lady Churchill/Sir Winston Churchill, Snow White, Story Princess, Cinderella,
"Cissy", produced in hard plastic and vinyl is covered in another article on this site. Books I have used and recommend for research: Madame Alexander Collector's Dolls .............Patricia Smith
Madame Alexander Collector's Dolls Volume II.........Patricia Smith

Madame Alexander Dolls on Review.......Marjorie V. Sturges Uhl
Hard Plastic Dolls.........Polly & Pam Judd
Hard Plastic Dolls II...........Polly & Pam Judd
Madame Alexander's Ladies of Fashion..........Marjorie Uhl
Current reference books:
Madame Alexander 2003 Collectors Dolls Price Guide #28 by Linda Crowsey
Madame Alexander Dolls, An American Legend by Stephanie Finnegan
A. Glenn Mandeville's Madame Alexander Dolls: Price Guide 
Click here to return to the Top of the Hard Plastic Dolls Page
Click here to return to the Madame Alexander Dolls Page 
Click here to return to the Antique Doll Advisors Home Page
eBay is a great wedsite for "value" information about dolls, or most anything else for that matter--however, in order to see what something has sold for, registration is required, so if you are looking for past sales of any particular doll, please register