Cissy Doll Clothing Sported A Fashionable Wardrobe...

Madame Alexander's Cissy Doll Clothing Sported A Fashionable Wardrobe...
...Cissy Doll Clothing-Perfect In Minature!
What an exquisite wardrobe Cissy had! She had all the accessories and fashions that young women of the 1950's had in their closets. Madame Alexander has always produced dolls with quality clothing, but the wardrobe that a Cissy could acquire was perfection in miniature.
Her ensembles could be compared to those found in the ladies department of any 1950's department store. My infatuation with Cissy and Cissy doll clothing began at a very late stage in doll collecting.
We all run the gamuts, going from one type doll to another, but, until about ten years ago, Cissy had not been on my list of dolls that I HAD to have. In all honesty, it is not the doll that I seek....it is Cissy doll clothing! 
My dearest friend, so dear, that to me she is afffectionately called "Sis"...had collected the vintage Barbie and other ladies of 50's fashion for many years. Her diligence and precision in restoring a garment to exhibit on her girls was not only rewarding to her upon completion, but, a visual treat to any who had the prililege of viewing them.
We had shared many doll show adventures and other treasure hunting experiences for many years. Every time we purchased dolls and spent time discussing and sharing doll information, she would tell me..."It's the clothes...you love the clothes".
Not fully convinced, when she offered me the opportunity to purchase some of her beloved Cissys, I made a leap that I have never regretted. Selecting from her many beauties was truly difficult. It was only after I had returned home and had the select time to absorb their presence that I realized that my beautiful Cissys were wearing similar dresses to those I had worn as a teen.
To this day, I have not purchased another Cissy. But, these ladies are acquiring an extensive wardrobe!
"It is the Cissy doll clothing".........
Cissy Doll Clothing is very fashionable, but there are many accessories that are equally fashionable, of which include, even nylon gloves...yes, we wore them! And hats...we always wore a hat and gloves to church. And the shoes...remember your first venture out of the house in high heels?
A shirtwaist dress and crinoline slips...more than one of course...how did all of that stiff material get through the doors!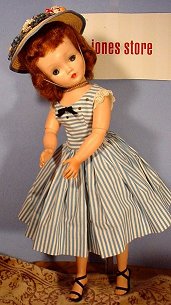 and Cissy has her own jewelry to go along with her Cissy doll clothing. If you wish to accessorize your Cissy...you have only to shop my favorite on line doll show...ebay.
eBay has a rather large set of listings of vintage Madame Alexander dolls for sale, if you are interested in a purchase, or to find values, if looking for values, it is necessary to register with eBay.
And what better way to display Cissy in Cissy Doll Clothing than in a department store setting! A project that I hope to finish one day...Cissy shops in a 1950's Jones Department store...vintage Kansas City.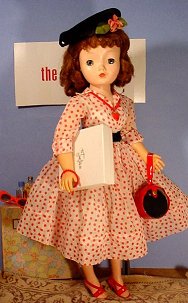 Family members in that area searched drawers and closets to find small boxes bearing the names of stores that are no longer, just so Cissy would have "dress boxes" to carry her selected purchases.
Miniature bottles of 50's perfume are a nice addition to the store fascade. 
Click here to retun to the Top of Cissy Doll Clothing Page
Click here to retun to the Madame Alexander Dolls Page
Click here to retun to the Antique Doll Advisors Home Page
eBay is a great wedsite for "value" information about dolls, or most anything else for that matter--however, in order to see what something has sold for, registration is required, so if you are looking for past sales of any particular doll, please register