hilda 237 is it a reproduction
by CHRISTY HULL
(US SANTA CRUZ )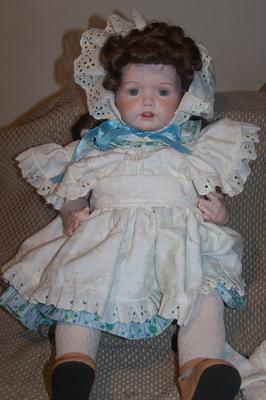 I was giving 2 dolls from one of my neighbors who is 70years old and they were her mothers, the Kestner doll is marked correctly 237 no holes in the base of the head.. so 1914.


It appears to have original clothing and long brown wig..* no painted eyelashes, composition body, no crack,nicks or flaws, detailed hands ( finger nails).
Could someone let me know if indeed this is not a reproduction..it has blue glass eyes ,open mouth 2 teeth and tongue, currently it will need to be re-strung as its very loose.
Please help me on this ..thank you in advance ebay sellers bodacious buttonz resale Christy